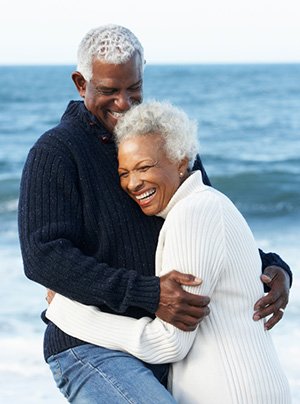 Dentures may seem daunting, but they are an excellent alternative to natural teeth. Our high-quality, metal-free partial dentures are made of resin and acrylic. This allows the partial denture to flex which results in a partial denture that is more comfortable. This increased comfort results in a new set of teeth that allows you to speak, eat and smile with confidence.
Dr. Anthony D. Thiessen develops a personalized treatment plan to suit every patient's needs. Our team is constantly learning and incorporating new technologies to design the best dentures. We want to address your unique concerns and guarantee that your dentures fit into your lifestyle.
We are meticulous in our denture design, and use one of the best labs in the world for fabrication. You won't leave our office until you have the perfect set of dentures.
What are Implant-Supported Dentures?
Implant-supported dentures have revolutionized replacement teeth. We can use dental implants to increase the security of full or partial dentures. Our experienced dentist will help you determine which type of denture is right for you.
The procedure for implant supported dentures includes two steps: the fitting of the titanium implants and the fitting of the denture. An oral surgeon will perform your dental implant placement, and Dr. Thiessen will restore your dental implants with custom-made dentures.
What are the Benefits of Implant-Supported Dentures:
More Security: Conventional dentures sit on the gums, and may occasionally shift out of place. Implant-supported dentures root themselves to the jaw, just like natural teeth. They remain secure while you chew, speak, smile, laugh, speak, brush, and floss.
Improved Aesthetics: The Healthy Smiles Dental team goes above and beyond normal expectations to ensure your implant-supported dentures are indistinguishable from natural teeth.
More Lifelike: Because implant supported dentures anchor to the jawbone like real teeth do, they feel more like true teeth. They don't cover the roof of the mouth, so you can taste foods properly again. They also allow for normal brushing and flossing without removing the appliance.
We can revive your smile with implant supported dentures! To schedule a visit, call Healthy Smiles Dental today.