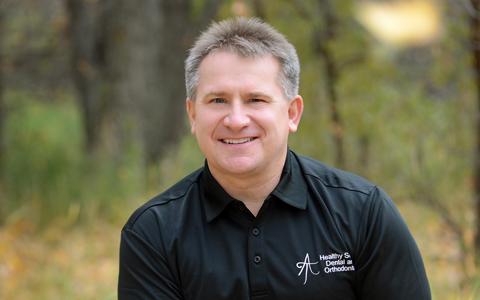 Dr. Anthony D. Thiessen is a native of the Sidney area and a graduate of Montana State University, Bozeman and the Oregon Health Sciences University. He returned to Sidney as an associate in 1996 and opened his own private practice in 1999. Dr. Thiessen established an early goal in life, utilizing information taught from his parents and grandparents, and that is to give everything in life 110%. In pursuit of his goal he graduated High School with top honors and excelled not only in academics but sports as well. Continuing his goal in Dental School he excelled to achieve many prestigious awards there as well. These include the Academy of General Dentistry's Award for being the top clinician of the graduating class of 1996. This very prestigous award was voted on by his instructors and evaluators from the academy. During graduation he also received the award for being the top laboratory technician of his class and top honors in endodontics. He was known for his expertise while in Dental School and currently by his patients and respected professional collegues.
Dr. Thiessen's passion is to provide patient's with the area's most advanced dental health care in a comfortable, relaxed environment. Many years later, he continues to improve his education, equipment and office environment in order to provide that quality of care.
Dr. Thiessen is a profectionist and his patients, family and friends will attest to that. He is an artist and an architect at heart and knew that he possessed the innate talent to design and develop smiles that were not only beautiful, but also healthy and comfortable for his patients.
Dr. Thiessen has taken numerous courses at the most prestigous Las Vegas Institute for Advanced Dental Studies (LVI), and has taken numerous other courses all over the USA. Dr. Thiessen's thirst for continuing education for himself is unrivaled. He is a member of the American Dental Association and the Montana Dental Association. He also takes great pride to be a very active member in the International Association of Orthodontics and the American Academy of Craniofacial Pain. He typically completes completes over 100 hours of continuing dental education each year.
Dr. Thiessen resides in Sidney and loves the great outdoors and sports of all kinds. He is a very involved father and can often be found spending time with his children and family. He has a passion for health and fitness and has goals to compete in a triathlon some day.