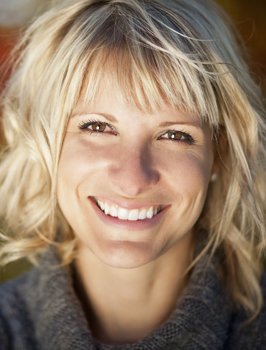 A full mouth restoration involves every aspect of your smile. We consider the teeth in the upper and lower jaw and how we can improve them both functionally and cosmetically. A full mouth restoration can include:
Dental veneers
Dental implants
Crowns
Bridges
Dentures
Tooth-colored fillings, inlays, and onlays
Tooth whitening
Your smile restoration will be personalized to meet your goals. What does your ideal smile look like?
Change Your Life with a Smile Makeover
The beautiful smile you always dreamed of having can become a reality in as little as two to three appointments. Fix any problem you have with your smile with this total transformation.
Whether you have missing teeth, chipped or worn teeth, ugly fillings, overlapped teeth, dark or stained teeth, you can find a solution with cosmetic dentistry. We'll help you achieve your final smile masterpiece by using a combination of restorative materials including veneers, crowns, onlays, and bridges.
Smile Restoration Process
The process begins by creating a custom wax model of the smile transformation to help visualize the final result. Dr. Thiessen works with each patient to create a smile that is in perfect proportion to their bone and facial structure.
Your cosmetic dentist can change the color and shape until the beautiful smile is achieved. The affected teeth are then prepped and then natural looking temporaries are placed. The next visit consists of removing the temporaries and bonding on the new restorations.
Any of the following steps may be part of your smile makeover, depending on what you need.
Treating broken, chipped, or infected teeth
Replacing missing teeth
Improving alignment
Improving color, shape, and size of teeth
Consultation with specialists
Comfortable treatments with local anesthesia and sedation if desired
Smile makeovers truly do change peoples lives. No more hiding. You now have the ability to be yourself with your new, natural looking beautiful smile.
We are meticulous with our work and settle for nothing less than stunning results. To schedule your free restoration consultation, call Healthy Smiles Dental today.