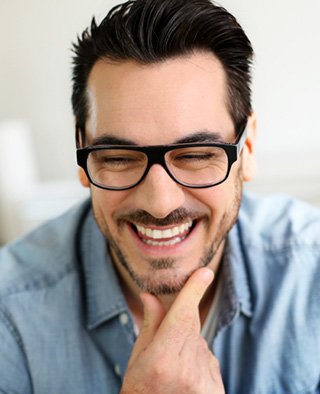 At Healthy Smiles Dental with Dr. Anthony D. Thiessen, we firmly believe you deserve excellent treatments and patient-oriented dental care.
If you need a dental restoration, we will work with you closely until you are satisfied with your new smile. No one leaves the chair before we achieve perfection! If you have a damaged or decayed tooth, come visit our welcoming office to discuss your concerns with our team.
Refreshing a Worn Down Smile
Dr. Thiessen offers a variety of options for restoring and replacing teeth. We may recommend dental crowns or bridges for:
A tooth with a large filling
A weak tooth that needs protection
A fractured or broken tooth
A tooth with poor shape or color
A tooth that has undergone dental implant or root canal treatment
When a tooth is lost it changes the bite placing excessive stress on the remaining healthy teeth. This stress causes the remaining teeth to wear unevenly and eventually can cause jaw-related pain. This jaw-related pain may then lead to postural changes due to muscle tension and stress. Replacing missing teeth will return your smile to an attractive appearance and your bite to optimal function!
Metal Free Crowns
A crown, or commonly referred to as a cap, is a custom-made restoration that completely covers the tooth. This strengthens the tooth to withstand the stresses of everyday function.
Crowns are placed when a tooth has been broken down due to a failing restoration, a fracture, a large cavity or has had root canal therapy. Dr. Thiessen only uses crowns fabricated of all porcelain for strength, endurance, and appearance.
Without metal, the restoration absorbs light, creating a more natural like appearance. We also place crowns for cosmetic purposes which improve one's appearance and confidence.
Metal Free Bridges
A bridge is also a custom-made restoration that is placed between two teeth filling in the area left by a missing tooth. The bridge is held in place by the crowns on each end of the restoration. This restores the bite to optimal strength and function.
Our technicians design beautiful custom crowns and bridges. We are meticulous about every crown we create, leaving our patients with the best and most natural-looking results. To schedule a restoration consultation, call Healthy Smiles Dental today.